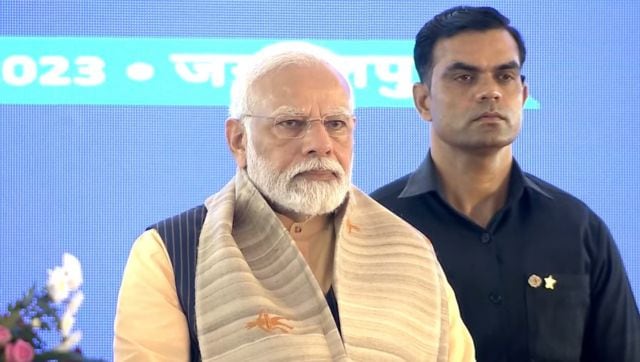 Prime Minister Narendra Modi Tuesday put Congress in a bind for Rahul Gandhi's "Jitni Abadi, Utna Haq (rights in proportion to population)" comment in response to the Opposition's makes an attempt to nook the BJP within the wake of the caste census in Bihar.
Addressing BJP's 'Parivartan Mahasankalp' rally in poll-bound Chhattisgarh, PM Modi in Jagdalpur recalled former prime minister Manmohan Singh's phrases. Singh had mentioned minorities have the primary proper over the nation's sources.
"Since yesterday, Congress leaders are saying 'jitni aabadi utna haq'… I was wondering what the former Prime Minister Manmohan Singh would be thinking. He used to say minorities have the first right over the country's resources… But now, Congress is saying that the population of the community will decide who will have the first right to the country's resources".
"So now do they (Congress) want to decrease the rights of the minority? Do they want to remove the minorities?… So, should the Hindus, who have the largest population, come forward and take all their rights?" PM Modi mentioned.
"Whose population is more?" PM Modi requested, and mentioned will it's attainable to make sure the rights in accordance to the inhabitants.
"Should Hindus take all the rights? Congress should clarify whether the rights will be given according to the population. Does Congress want to remove minorities?" he mentioned.
#WATCH | Chhattisgarh: At Bastar's Jagdalpur PM Modi says, "Since yesterday, Congress leaders are saying 'jitni aabadi utna haq'… I used to be questioning what the previous Prime Minister Manmohan Singh could be pondering. He used to say that the minority has the primary proper to the… pic.twitter.com/m3KqCikIS4

— ANI (@ANI) October 3, 2023
PM Modi mentioned his authorities launched each scheme with the curiosity of poor folks in thoughts, including that "the poor is the biggest caste, biggest community in the country."
"For Modi, poor people are the biggest abadi of the country and they have the first right over resources. Welfare of the poor is my aim," the PM asserted.
The Nitish Kumar-led authorities, of which Congress is a component, launched a caste survey of Bihar on Monday. The survey confirmed that OBCs and EBCs represent a 63 per cent of the state's whole inhabitants.
Hailing the Bihar caste census, Rahul Gandhi posted on X (previously Twitter), "The caste census of Bihar has revealed that OBC, SC, ST are 84 per cent there. Out of 90 secretaries of the Central Government, only 3 are OBC, who handle only 5 per cent of India's budget! Therefore, it is important to know the caste statistics of India. The greater the population, the greater the rights – this is our pledge".
In Bihar, Congress is a ruling ally of Janata Dal (United) and Rashtriya Janata Dal (RJD).
With inputs from companies