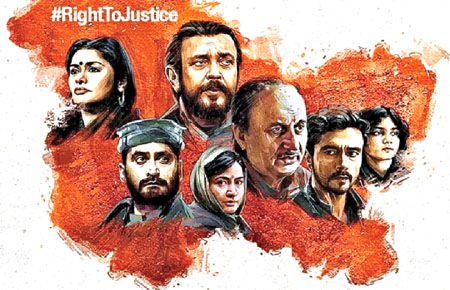 The film feels like an unlocking of the floodgates of questions that India needs to ask to save its centuries-old Sanatani civilization
You can call it dispassionate detachment. The voice Vivek Ranjan Agnihotri employs as the narrator of episodes in The Kashmir Files. For an audience habituated with characteristic melodrama that Bollywood productions incorporate into a high-strung narrative, this story is quite low on atmospherics and theatricals. But, in hindsight, this is its very trump card. By reigning in excessive emotions and coating the depiction with just the right amount of sensitivity, Agnihotri not only makes the feature starkly effective but also drives home the point that screams, "There's no denying that all this had actually happened with our own people. High time we acknowledge how Kashmir was ripped apart by Pakistan-sponsored separatist elements and Islamic radicalisation, while the then Indian Government washed its hands off of taking responsibility; letting people be butchered or driven away from their homeland, thereby allowing the cruel circus to continue. No matter how much we try to cloak the valley in a fake bubble of Kashmiriyat, the Pandits found themselves at the receiving end of a diabolical betrayal by their Muslim friends and neighbours. The famed jannat(paradise) turned into a Valley of death and destruction fuelled by religious fundamentalism. That's that."
Boldly staking claim to the truth he showcases in the film, through an open declaration, in the beginning, the director also affirms the depth in his research on the subject. Mind you, there isn't the usual disclaimer that would have conveniently distanced the episodes captured from the assertion of truth. The makers here confidently own their stand because they are armed with proof and data. That the film is attaining the status of a cult classic even as we pen this piece is because of this ownership and emphasis. Never before in the history of Hindi cinema has a director exhibited this kind of artistic courage or depth in information. In fact, even The Tashkent Files, Agnihotri's last work exposing the secrets behind former Indian Prime Minister, Lal Bahadur Shastri's death, the end credits featuring the Mitrokhin Archives slide tantalisingly dangling the 'conspiracy theory' carrot before the audience.
Rest assuredThe Kashmir Files doesn't do anything of that sort. The connection, hence, is real, natural, and to the point. Videos and testimonies from affected Kashmiri Pandits and their progenies flooding the social media space ever since the film was premiered in the US as well as India corroborates that everything in the film happened. That and more.
In a telling viral video clip on Twitter, an old Kashmiri gentleman exclaims, "There should be an episode dedicated to each of the lakhs of families who faced the genocide and exodus. Three hours are not enough to depict the torture we faced!" even as his wife's face is awash with tears. While the couple breaks down seeing the dark past rewind before their eyes, on screen, the director consoles them. Again, something never ever witnessed in the history of Bollywood. But then, when was Agnihotri ever part of a film industry that has repeatedly presented distorted narratives of Kashmir. Remember Vishal Bhardwaj's Haider, Vidhu Vinod Chopra's Mission Kashmir, and Shikara?
The occupancy on Sunday (March 13) was over 88 per cent during the full day on an average which you rarely see. This kind of occupancy, I remember, was during Baahubali 2. The film started with Rs 3.5 crore on Friday (day one of release) and by Saturday the film's business was over Rs 8 crore and Sunday it reached over Rs 15 crore. Business is almost doubling every day. And Monday is looking the same as Sunday, which is rarely seen as weekdays are usually lower than weekends — Rajender Singh Jyala chief programming officer at  INOX Leisure
The film is an expose, too, on the Machiavellian functioning of the then Indian politicians in power. When Pushkar Nath Pandit laments how Kashmir is being treated like a foster child of Bharat, it is a prophecy on the sad plight of what he and his people would face for the next 30 or more years. For the uninitiated, Sahana Vijayakumar'sKasheer and Nathuram Godse's Why I Assassinated Gandhiwould be good reference points to understand the Kashmir situation politically and socially. Gauging the turn of events in Kashmir, beginning during India's vivisection in 1947, explains the context of The Kashmir Files even better. I ardently suggest a read. These books brilliantly deconstruct the reasons why directors such as Bhardwaj got away with the Martand Surya Temple in Haider being called ' 'shaitaan ki goofa" in his film. Or, why Chopra categorically blamed the Indian Army for breeding terrorists in the Valley. The propaganda in these films becomes so evident once you confront facts. And that makes The Kashmir Files almost like a watershed moment in Indian filmdom. A work that might steer a movement in demanding unvarnished and untarnished truth from Indian filmmakers. A movement in identifying religious and social faultlines to introduce reformation. And most importantly, a movement towards long denied justice and rehabilitation. Well, hope is what humans dwell on …
In an incisive interview with an English daily a few days before The Kashmir Files was released, Agnihotri explained the weight of influence that the soft powers carry in a democracy like India. It is through these soft powers that a nation builds its conscience and pride. In doing that, he also laid bare the vicious web of misleading narratives that a carefully constructed ecosystem plants in the minds of the youth, a segment responsible for shaping the future of our country. Radhika Menon, immaculately portrayed with a chilling vein by Pallavi Joshi, represents all those educators and activists who leave no stone unturned to ensnare impressionable minds to further their devious agenda. She's an important peg in the ecosystem (including the media) and was chosen well by the powers-that-be. The line, "Government unka hua toh kya hua, system toh hamara hain" rips apart the polished façade these characters hide their venomous ploys with. The cinematic language used by Agnihotri might be subtle, but the end it achieves is fierce and direct. Kudos.
It has already become a phenomenon. We started with 5,000 footfalls pan-India on day one which grew to 13,000 on the second day and on Sunday we did 24,000 for The Kashmir Files. It has been a surprise for everyone as on Monday, being a working day, the film has crossed over 35,000 footfalls in Miraj Cinemas. It is working with 70-75 percent occupancy in our theatres — Amit Sharma, MD, Miraj Cinemas
Is the script devoid of flaws? Does it really matter in a film whose purpose is not to floor those with a yen for mainstream, commercial work! Yes, there are portions where editing could be tighter, acting a wee more natural and the CGI more advanced. The script could do with more inclusions of the brutalities committed to making the audience understand the extent of the wrongs.  But once you gloss over these discrepancies, The Kashmir Files stands out for conviction and courage. Even in Brahm Dutt's  (Mithun Chakraborty's restraint is marvelous) acceptance of how helplessly bureaucrats had to watch Kashmir burning, there is bravery in courting truth. In the scene where the Pandits have to hush their cry ofBharat Mata ki Jai while hiding, Agnihotri declares who the oppressor or fascist is! There is pluck in Agnihotri's spine and heart when he does away with background music during the Nadimarg massacre incident. To elevate degree of realness, the bluish tint enforces the pall of gloom descending on the Valley whereas the cold belies the sense of foreboding.
Unspeakable Atrocities
Girija Tickoo: She was a Kashmiri Pandit from Bandipora. She worked as a laboratory assistant in a university in the Valley. During the Kashmiri  Hindu genocide, Girija Tickoo had fled with her family and settled in Jammu. One day, she received a call from someone who claimed the situation is better now and she could come back to collect her salary.
In June 1990, Girija came to the Kashmir to collect her salary and met her local Muslim colleague at her home. She was not aware that Islamic terrorists were tracking her movement. Girija was kidnapped from her colleague's home and was taken to an unknown location. After a few days of kidnapping, her dead body was found on the roadside in horrific condition. The autopsy revealed she was brutally gang-raped multiple times and tortured. Girija was cut into two pieces using a mechanical saw while she was still alive, right from the middle of her body.
Pandit Premnath Bhatt:He was a well-known scholar of the Valley, known for his upright writing in newspapers. He used to take up every issue without fear. On the evening of December 27, 1990 when Premnath Bhatt was on his way to his home in Anantnag, JKLF terrorists shot him in the head at Dasi Mohalla near his house. After killing him in a Muslim-majority area, the terrorists celebrated, by chanting- Ek Aur Hindu Mara (one more Hindu killed), but no one uttered a word and the terrorists fled, waving their guns. Even after his murder, no one came from the locality to help his family.
Nobody told the police anything. He was cremated the next day at his native place Narbal. After that on his tenth day also the terrorists tried to attack the house with a bomb. The terrorists had declared that under any circumstances, the family of Kashmiri Hindus would not be spared.
For me, three faces stood out in the motley of solid performances. Bhasha Sumbli breathes so much life into Sharda Pandit that in her persona you sense the resilience of all those women who despite facing hell, ensure they retain faith in the power of Devi Saraswati. Pragmatic with a rare sense of fortitude, she becomes the living embodiment of Kheer Bhawani Durga, constantly telling her to claw back from the clasp of pralay.
Anupam Kher is Pushkar Nath Pandit in body and soul. He blurs the line between reel and real, maybe because as a genocide and exodus survivor his pain finds a voice. To be stripped of one's home, hearth, culture, and identity with no reassurance or sympathy from any quarters should gut one from inside. But Pushkar Nath fights. He has to. He is that Pandit who derives strength from his dharma and Lord Shiva. Believing in the power of education to break the shackles of hatred and regression, he becomes an emblem of morality and principles. When he speaks his native tongue the pride and earnestness he does it with is almost tangible.
To hold its own amidst a battery of veteran actors in a crucial film demands merit. Darshan Kumar exhibits enough of it. The transition from ignorance and confusion to awakening and confidence shines forth in the actor's performance. But if you ask what will stay on with me, not just as a viewer but also as someone who passionately feels for the cause, it is Krishna Pandit's monologue (clearly a high point in his career). For, it signifies a change in so many ways. In the perception of wisdom, freedom, and knowledge, in acceptance of our Sanatani roots, and in understanding the absolute need for re-narrating the history of India. But most importantly, it springs hope in the youth of our country, because they are the real harbingers of an honest revolution.