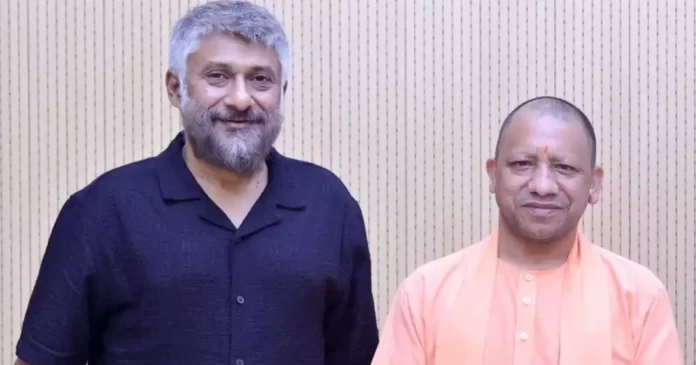 Filmmaker Vivek Agnihotri shared particulars about his assembly with Uttar Pradesh Chief Minister Yogi Adityanath for the promotion of the movie 'The Vaccine War'.
"We had a great meeting with Uttar Pradesh CM Yogi Adityanath. He said that science is the future. We even requested him to screen the movie for students in the state," Agnihotri advised media.
In a current interview with media, Agnihotri spoke about his movie and stated that there was a giant gang of people that believed that India couldn't survive the COVID-19 pandemic.
"Amidst the Covid pandemic, there was a fight whether we will survive or not. There was a big gang of people who were trying to sell their own country. They were saying to bring foreign vaccine and they believed that India can't do this," stated Agnihotri.
He added, "But in such a terrible situation some of our scientists risked their lives and believed that they can do it. They not only saved the lives of 130 crore people but also saved the lives of needy people by sending their vaccines to 101 countries. The person behind this was mostly our women scientists, our mothers."
He stated that his movie described how India turned self-reliant on vaccines and have become the 'pharmacy of the world'. "I have focused mostly on India's victory, how India is becoming a great nation, how India has become self-reliant and how India's science is ready to show direction to the world. More than that, I also wanted people to understand who your enemies are. If you want to know who are the enemies of India, who is trying to sell India, then now you will get the answer in the vaccine war."
Taking his assembly with Uttar Pradesh (UP) Chief Minister Yogi Adityanath to his social media deal with in X, expressed his delight to find out about your concentrate on science within the unprecedented progress of UP and thanked the CM for his inspiring phrases and appreciation of #TheVaccineWar.
Thanks hon. @myogiadityanath ji for your inspiring phrases and appreciation of #TheVaccineWar. I'm delighted to find out about your concentrate on science within the unprecedented progress of UP. pic.twitter.com/2W6RtNtiGP

— Vivek Ranjan Agnihotri (@vivekagnihotri) October 9, 2023
Helmed by Vivek Agnihotri, the movie stars Nana Patekar, Anupam Kher and Pallavi Joshi within the lead roles.
'The Vaccine War' narrates the story of the triumph of scientists and 130 crore Indian residents who fought the battle in opposition to COVID-19. It gave a glimpse of the actions of scientists concerned with the BBV152 vaccine, also called Covaxin, developed by Bharat Biotech in partnership with the Indian Council of Medical Research – National Institute of Virology.
(with inputs from ANI)