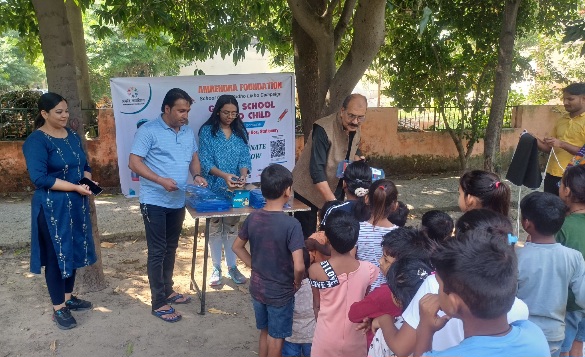 Ghaziabad: Amrendra Foundation an NGO active in social work, distributed school material kits that includes stationary essentials to needy children in Vasundhara located in Ghaziabad. Also, on this occasion, volunteers associated with the organization talked about importantance of education to children.
Well-known social worker and patron of the organization Mr. Arbind Pathak and Engineer Mr. Yogesh Chaudhary participated in this program. Mr. Pathak inaugurated the program and encouraged all the children. Citing examples of many great men, he told the students how dedication towards education is the first key to success.
On this occasion, along with the organization's director and senior journalist Navesh Kumar, Delhi NCR coordinators Akanksha Jain, Sana Saheb, and Anil etc. were also present in the program. Ghaziabad Coordinator of the organization, Anil informed that the organization always helps the needy, their endeavor is to fulfill even the smallest needs and bring a smile on the faces of the needy.
Amrendra Foundation is one of India's leading volunteer-driven non-profit organizations (NGO) that works across different states to address issues through multiple programs that address: youth nurturing, poverty, education inequity, gender inequality, taboos on menstruation, etc.  The foundation also arranges distribution drives related to affordable sanitary Pads, Food among poor, providing school Kit, plantation campaign etc.