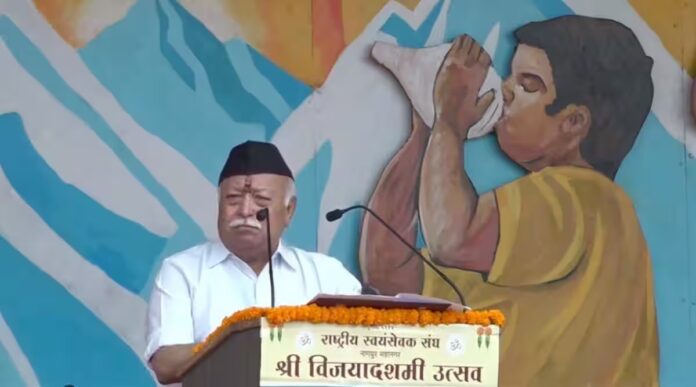 Observing that some folks calling themselves "woke and cultural Marxists" are those who don't need India to face by itself, Rashtriya Swayamsevak Sangh Sarsanghchalak Dr Mohan Bhagwat on October 24 stated that these folks try creating "discrimination and separation" within the society and that they've forgotten Marx since 1920s.
Dr Bhagwat stated that these folks oppose those, who're working with a selfless mind whether or not they're Sanghis or communists.
"In today's situation, if we bring about change by standing on our values, it will give way to the world. Now we started doing this. But there are some people in the world and in India too, who do not want India to stand (on its own). Hence they try to create discrimination in society. (And attempt) How to break the constructed collectivity of the society, create separation and conflict," Dr Bhagwat stated whereas addressing the annual RSS Vijayadashami Utsav right here.
"These destructive, all-devouring forces call themselves cultural Marxists or Woke, or the awakened ones. But they have forgotten Marx since the 1920s. They are opposed to all orderliness and morality, beneficence, culture, dignity and restraint in the world. In order for a handful of people to have a complete control over the entire human race, they reward, promote and spread anarchy and indiscretion," Dr Bhagwat stated.
"Their modus operandi involve taking control of the media and academia, and plunging education, culture, politics and social environment into confusion, chaos, and corruption. Such an environment enables the creation of a vicious cycle of fear, confusion and hatred. A society that is divided and entangled in mutual conflicts and confusion becomes weak and easily and unknowingly falls prey to these destructive forces that are seeking their own dominance everywhere. In Bharatiya tradition, this style of functioning which creates disbelief, confusion and mutual hatred among the people of any particular nation is called Mantra Viplav," he added.
The annual 'Vijayadashmi Utsav' of the Rashtriya Swayamsevak Sangh (RSS) began with employees' 'Path Sanchalan' (route march) in Nagpur earlier at the moment. Singer-composer Shankar Mahadevan was the chief visitor.
On the event, RSS Sarsanghchalak Mohan Bhagwat paid tribute to the founding father of the organisation Keshav Baliram Hedgewar. He additionally carried out 'Shastra Pooja' on 'Vijayadashami Utsav'.
Union Minister Nitin Gadkari and Maharashtra Deputy Chief Minister Devendra Fadnavis had been additionally current on the occasion.
RSS was based in 1925 in Nagpur on Vijayadashami day. Dignitaries from numerous fields are invited as chief visitors yearly for the Vijayadashami Utsav.
(With inputs from ANI)