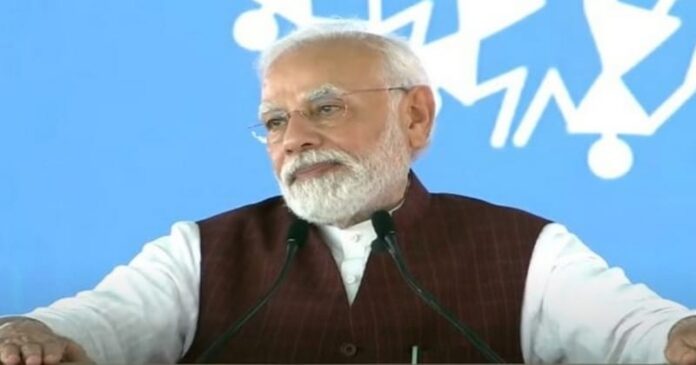 Unleashing a no-holds-barred attack on the Oppositon bloc — Indian National Developmental, Inclusive Alliance (INDIA), Prime Minister Narendra Modi, on September 14, referred to as it an "INDI alliance" that "does not have a leader".
Addressing an enormous gathering at Bina in poll-bound Madhya Pradesh, PM Modi accused the INDIA bloc of getting an agenda to end the nation's 'Sanatana' tradition.
"At a time when Bharat is emerging as a world leader at global forums, some parties are trying to divide the country and its people. These people came together to form an 'INDI' alliance. Some people are calling it a 'ghamndiya (arrogant) alliance'. They don't have a leader yet and there is a lot of suspense on who would lead them going into the Lok Sabha elections next year. They are working with a hidden agenda, which is to attack India's culture," PM Modi mentioned.
He alleged that the Opposition bloc, at its third assembly in Mumbai, adopted a decision to "end the Santan culture" within the nation.
"This INDI alliance adopted a resolution to end our 'Sanatana' culture. They are bent on destroying the ideologies, cultures and traditions that have kept the country and our people together for centuries," PM Modi added.
PM Modi addressed the assembly after laying the muse for a number of tasks price greater than Rs 50,700 crores, together with the 'Petrochemical Complex' at Bina Refinery and ten new industrial tasks throughout Madhya Pradesh.
The 10 tasks for which he laid the muse stone embody a 'Power and Renewable Energy Manufacturing Zone' within the Narmadapuram district; two IT parks in Indore; a Mega Industrial Park in Ratlam; and 6 new industrial areas throughout the State.
He additionally mentioned the Petrochemical Complex at Bina Refinery will assist make the nation 'Atmanirbhar' (self-reliant).
"Laying foundation stones of Petrochemical Complex at Bina Refinery today will help make the country India Atmanirbhar. This new-age petrochemical complex will take Bina to new heights of development. It will help the setting up of new industries in the State while opening up new avenues for MSMEs. It also generates employment opportunities for our youth," he added.
Expressing gratitude to Madhya Pradesh Chief Minister Shivraj Singh Chouhan, PM Modi mentioned, "I want to thank Shivraj Singh Chouhan and his Government for giving me the opportunity to come and meet the people of the state. Today, we are laying the foundation stone for projects worth more than Rs 50,000 crores. The combined expense of these projects even exceeds the budget of many States."
(with inputs from ANI)