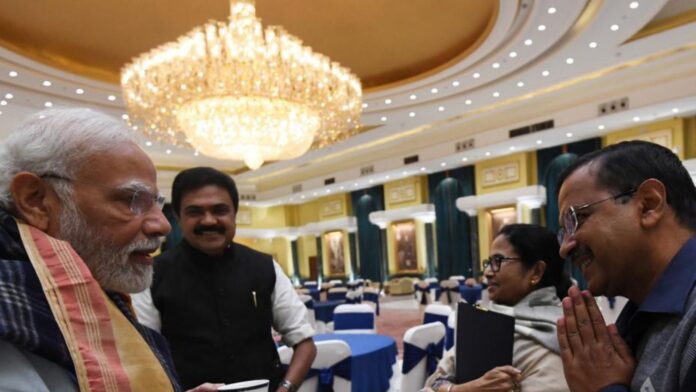 Last Updated: March 05, 2023, 10:27 IST PM Modi with West Bengal CM Mamata Banerjee and Delhi CM Arvind Kejriwal (File Photo)
Opposition leaders have said that Sisodia's arrest proves that India's democratic values stand threatened below BJP's regime
A day after former Delhi deputy CM Manish Sisodia's CBI custody was prolonged by two extra days, 9 opposition leaders together with CM Arvind Kejriwal, Bihar Deputy CM Tejashwi Yadav and Telangana CM Ok Chandrasekhar Rao, wrote to Prime Minister Narendra Modi, alleging misuse of central companies.
In the letter dated March 5, the leaders described Sisodia's arrest because the outcome of a "lengthy political witch hunt", claiming the leader was arrested despite lack of evidence against him the Delhi excise policy case.
Leaders have stated that Sisodia's arrest proves that India's democratic values stand threatened under BJP's regime. "The allegations against Sisodia are outrightly baseless and smack of a political conspiracy. His arrest has enraged people across the country. Manish Sisodia is recognised globally for transforming Delhi's school education and his arrest will be cited as an example of a political witch-hunt."
Nine Opposition leaders together with Arvind Kejriwal have written to PM Modi on the arrest of former Delhi deputy CM Manish Sisodia within the excise coverage case. They have said that the motion seems to recommend that "we've transitioned from being a democracy to an autocracy". pic.twitter.com/ohXn3rNuxI— ANI (@ANI) March 5, 2023
The letter claimed that since 2014, most raids, investigations, and interrogations have been against opposition leaders. "Interestingly, probe agencies go slow on cases against opposition leaders who join BJP," the letter learn.
In this regard, opposition leaders cited some examples, just like the CBI and Enforcement Directorate probe in 2014 towards Himanta Biswa Sarma within the Saradha chit fund rip-off. Leaders claimed that the probe was referred to as off after Sarma joined BJP.
Similarly, the letter said examples of former Trinamool Congress leaders Mukul Roy and Suvendu Adhikari who have been being probed by ED within the Narada sting operation case. However, the probe didn't progress after they joined BJP, the letter stated.
Nine opposition leaders — Mamata Banerjee, Ok Chandrasekhar Rao, Arvind Kejriwal, Uddhav Thackeray, Bhagwant Mann, Tejashwi Yadav, Farooq Abdullah, Sharad Pawar and Akhilesh Yadav — despatched the letter to PM Modi.
The letter additionally highlighted incidents of disagreement between Governors and the state authorities in some locations. "Governors are wilfully undermining democratically elected state governments and selecting as a substitute to hinder governance as per their whims and fancies," the letter said, adding that such incidents are widening the gap between the Centre and the states.
The CBI has confronted ex-deputy chief minister Manish Sisodia with his former secretary C Arvind and then Excise commissioner Arava Gopi Krishna in connection with alleged manipulation of the now-scrapped Delhi Excise Policy, officials said Saturday.
CBI alleged that the Delhi government's excise policy for 2021-22 to grant licences to liquor traders favoured certain dealers who had allegedly paid bribes for it, a charge strongly refuted by the AAP. The policy was later scrapped.
Read all of the Latest Politics News right here