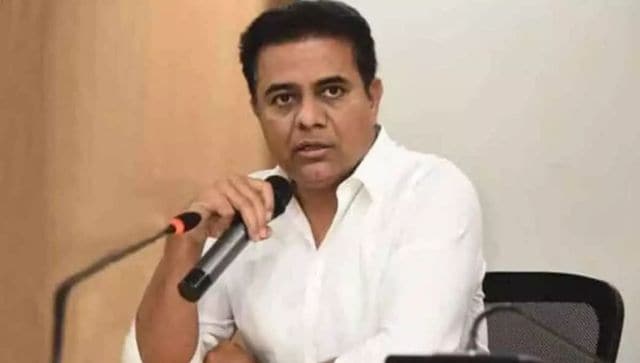 Barely an hour after Prime Minister Narendra Modi claimed that Telangana Chief Minister K Chandrashekar Rao wished to affix the National Democratic Alliance and that he had "refused him entry", Minister K T Rama Rao has retorted and mentioned that the Bharat Rashtra Samithi was "not mad enough" to affix the alliance.
Rao, who's the working president of the BRS and the son of chief minister KCR, mentioned his father would by no means need to work with the BJP.
"This Prime Minister is so inconsistent. On the one hand, he says BRS has funded Congress in Karnataka and then he says he has not allowed us into NDA. Have we been bitten by a rabid dog that we will go and join the NDA? So many parties are leaving your alliance. The Shiv Sena left you, the Janata Dal (United) left, and so did the Telugu Desam Party and the Shiromani Akali Dal," the minister, who can also be known as KTR, mentioned on Tuesday.
Taking a swipe at the ruling alliance, he mentioned, "Who is with you? Who do you have in the NDA except for the Central Bureau of Investigation, the Enforcement Directorate and the Income Tax department?"
What PM Modi had alleged earlier
At a rally within the poll-bound state's Nizamabad earlier on Tuesday, the Prime Minister had claimed that K Chandrashekar Rao made a number of makes an attempt to affix the NDA after the municipal elections in 2020
"These were personally rebuffed. I said, 'we won't cheat people of Telangana'. After that, his mind was rattled," the PM mentioned.
The PM's remarks additionally included a dig at KTR and 'dynastic politics' throughout the BRS.
"They (the BRS) got angry (after being refused entry). But then he (KCR) came back… told me he now wants to give all responsibility to KTR. 'I will send KTR, you please bless him', KCR told me," the Prime Minister claimed.
"I said, 'KCR, this is a democracy. Who are you to give KTR everything? Are you a king?' After that he never came before me. He is unable to face me," the Prime Minister declared.